Ritual Practice of an Hellenic Atheopagan
EDITOR'S NOTE: The Pagan path of Atheopaganism as it is generally described on this site is free both of credulity in literal gods and of "soft theism", or the usage of god-images, names and meanings as metaphorical in religious practice.
But for some, this soft theism adds a valued layer of meaning to their practice. Here, guest writer Richard C. Sansing describes how he has cross-referenced figures in the traditional Tarot deck with Classical Greek mythological figures.
---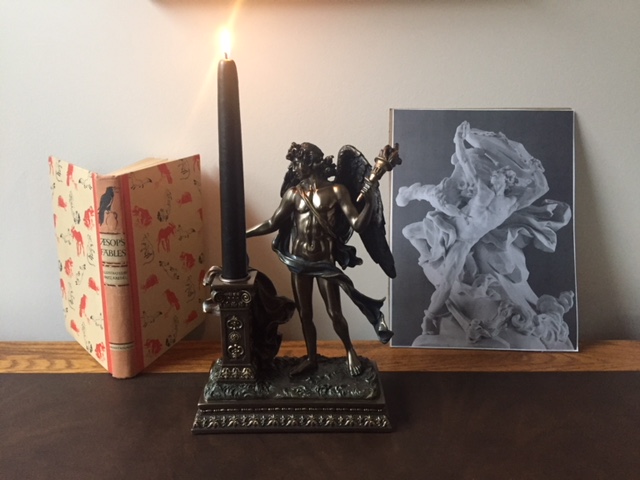 Richard's Focus
My ritual practice combines the intellectual foundations of Atheopaganism with the symbolism of Greek mythology. My Focus is simple, featuring a figurine of Prometheus bringing fire to mankind and my childhood copy of Aesop's Fables.
In one of his recent posts, Mark mentioned that he sometimes engages in Tarot card readings. I was surprised, as I had thought of Tarot as being of form of fortune telling. But after reading how he uses it here, I started thinking about whether I could incorporate Tarot into my Hellenic Atheopagan practice. Mark asked me to share the results of my efforts on his blog, and I am happy to do so. Let me emphasize that this is a work in progress. Suggestions are welcome!
Knowing nothing about Tarot, I started by trying to learn the basics, and discovered the Major Arcana, court cards, and pip cards. It turns out that others have tried to combine Tarot with symbols from Greek mythology. I discovered several efforts to associate the 22 cards of the Major Arcana with Greek gods and goddesses, and one effort to do so with the 16 court cards. None seemed entirely satisfying, and so I tried to combine these efforts.
First, I started with the general approach used by John Opsopaus in the system he calls Pythagorean Tarot, shown here.
I deviated from some of his choices, and relabeled "Knight" and "Page" as "Prince" and "Princess" to emphasize the symmetry between masculine and feminine deities. The resulting correspondence between court cards and deities is in the table below.
| | | |
| --- | --- | --- |
| | | |
| | | |
| | | |
| | | |
| | | |
| | | |
| Suit of Pentacles (earth) | | |
| | | |
| | | |
| | | |
| | | |
| | | |
| | | |
| | | |
| | | |
| | | |
| | | |
| | | |
| | | |
| | | |
| | | |
Many of these associations are straightforward (Poseidon with water, Zeus with air) but others are not. Hekate could easily fit in the Suit of Pentacles, but she is often depicted carrying two torches, helping Demeter search for Persephone, and so I put her in the Suit of Wands.
The last step was to associate the 22 cards in the Major Arcana with other Greek deities. Having used the Olympic gods and goddesses in the previous step, this was the most challenging task. But using various websites, especially theoi.com, I arrived at the associations in Table 2. I tried to choose deities with characteristics similar to those on the cards themselves.
Table 2
Choosing Asclepius, the god of medicine, to represent the Magician emphasizes the Magician's characteristics of skill over trickery. Ouranos as the Hanged Man refers to his eventual demise rather than his role as the primordial god of the sky.
Going through this process helped me learn a lot about Tarot, and also enriched my knowledge of Greek mythology. I look forward to incorporating Tarot into my ritual practice!